by Clara Butler
Are you staying in New York this spring break? Are you tired of people asking you what you're doing with your week of free time and then getting the pity head turn when you say you're staying here? Well, it's time to get pumped because you're spending a whole week without classes in one of the best cities in the world! And as someone who has only ever stayed here during spring break, I can assure you that you will survive AND you will have a great time. Here are some ideas for how to spend all that time:
Flea markets are always fun
1. Brookyln Flea
Brooklyn Flea has been on my to-do list for a while and since it's still a little chilly out, they are holding it inside for a little longer. There are hundreds of vendors selling cool, antique items here and there are a bunch of food vendors as well! And spring break is a great time to explore places other than Manhattan like Brooklyn, the Bronx, and Queens.
2. Walk Through Central Park
Since it finally feels like spring and since it will (hopefully) persist during break, walking through Central Park is one of the most beautiful and stereotypically New York things you can do. Luckily, if spending a lot of time outdoors isn't your thing, take a quick stroll through the park and end up at the Met where you can spend the rest of the day looking at art and feeling cultured. If you also aren't too keen on walking that much, you can take the subway down the Upper West Side and then walk across or, you know, just take the bus to the Met.
If you're like me, Eataly is one of those spots that you keep hearing about and then saying "Oh yeah, I've been meaning to check that out". Well, now is your chance to do all those things that you've been making excuses for like "I have too much homework". And what better way to spend the day than eating great Italian food and walking around a cool neighborhood?
4. The High Line
Walking the High Line is one of my favorite things to do with my family when they come to visit because it's one of those kind-of-touristy-but-not-really things to do. And now, since the weather is actually above 20 degrees, walking the High Line is a great way to spend some time in Chelsea while getting exercise. My suggestion is to start at the uptown end and then walk down and explore around 14th street since it's a really cool neighborhood.
If you have been putting off all your work and suddenly realized that you can't get by without doing any homework this break, study somewhere awesome like the New York Public Library. Have you seen that ceiling? Not only is it a cool building in general, it's also very quiet in the actual reading rooms and once you're done, you can reward yourself by window shopping on 5
th
avenue.
6. Dessert Binge
Since the dining halls and our beloved Liz's Place are closed during the break, it's time to venture out and eat all the food you've been dreaming about. My suggestion? Go on a dessert tour of NYC and stop at all the famous dessert places like Momofuku, Dominique Ansel Bakery, and even Laduree. You don't even have to feel guilty about your sugar consumption because you're on "vacation" and everyone knows you get to eat everyone thing you want on vacation.
7. See a Comedy Show
Even though I have been suggesting this to everyone for a really long time, I still haven't actually seen an NYC comedy show yet. UCB has great shows almost every night and the Barnard Store sells discounted stand-up comedy show tickets for just $5. It's a great way to spend a night if you're underage and don't feel like standing around in a crowded bar and you might even discover your new favorite stand-up act!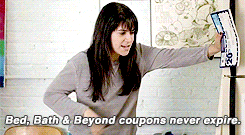 Why would you ever throw them away?
8. Fulfill Your Pinterest Dreams

Like Abbi in Broad City, Bed Bath and Beyond is my happy place. I swear I could spend an entire day in there just fantasizing about color coordinating curtains and towels. I think that the magic of that place is that even though you have no need for like 99% of the items in there, your life would just seem so much better with all of it. I love the Bed Bath and Beyond here because it even sells food, thus proving that you could live in there forever. And if you're down by Union Square already, there is a Container Store a few blocks away. Nothing says "I have my life together" like pretending you have an Elfa closet system.
9. See a Movie
Although this isn't the most original suggestion, it is a great way to spend an afternoon or evening. The theater on 84thstreet has the best chairs but you could even explore more of the city by going to a theater downtown. There are some great action movies out right now and next weekend, the second movie in the Divergent series, Insurgent, comes out!
10. Do Absolutely Nothing
Spring break is all about treating yourself and what better way to do that than do absolutely nothing at all? Catch up on Scandal, order some food and spend as much time in bed as possible. Sleeping until noon? Do it. Changing out of pajamas into new pajamas? No judgment.
And there you have it, some ideas for a whole week off! Have a great spring break and hope these were helpful!
Clara Butler is a Junior at Barnard College and is the Girl Talk, Opinions, and New York Editor of The Nine Ways of Knowing.